Google's SEO algorithm is being continually changed. It's getting more developed to provide the users of Google with quick, useful and relevant search results. As the search results have often been influenced by some unethical SEO strategies, Google has to bring frequent updates to provide secure and reliable results. Google modifies its SEO algorithm for a number of times a year. With the modification of the algorithm, drastic changes come in the ranking factors. Thus, the influence of ranking factors differs over time. It really has become tough to predict what'll be the future ranking factors. Nevertheless, whatever changes come in the technology, we should get prepared to become accustomed to it. At this point, we are going away to talk about Google Effective SEO Ranking Factors 2015.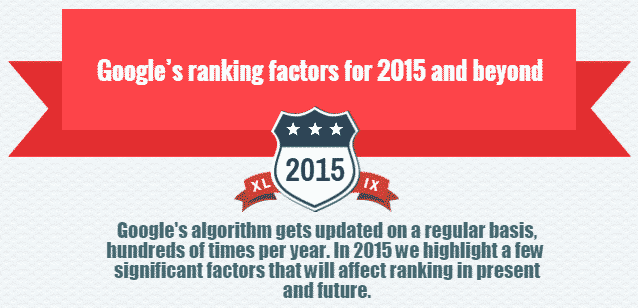 So, what are the new ranking factors for Google SEO algorithm in 2016 and later?
From April 21st, mobile-friendliness will be considered as a ranking signal
Social media signals are becoming a significant ranking factor
The role and importance of keywords will be changed which will affect ranking.
Backlinks will be measured by quality, not in quantity and are not important as before.
Location-based search results will also become a vital ranking factor.
In 2016 after quality content and related backlinks, RankBrain is the third most Ranking factors of Google.
In this year, social media have overtaken backlinks as a ranking signal. Nonetheless, whatever changes come in the searching algorithm, to rank better in the search results we should have a clear idea about SEO and Google algorithm updates. In this article, there will be a thorough discussion about the most important ranking factors that should be taken into consideration for higher ranking in 2016 and in future.
Content is the Leading Ranking Factor
There is no doubt that content is still the king. It's the top and everlasting ranking factor and not going to be changed in 2016. If the content is not amazing, it can't draw traffic or get backlinks. Even it won't get shared in the social media. Now engaging and quality content creation is the #1 ranking factor. Contents that are long, rank better. But the content should be created in a way so that it becomes very attractive and relevant and makes people share with others. Contents that are written in between 600-1,000 words rank better. Incorporating related images and videos in contents has recently been considered as a smart representation and also has a positive impact on ranking. So for the better rank in Google, you have to know how to write engaging and traffic driven killer content.
Social Media Signals
A great change has come in the way Google will rank sites. In the ranking system of 2015, social media is playing a dominating role and have surpassed backlinks. It's because a good content usually gets lots of sharing and thus receives more social signals.
Stieber published an article where they have done data analysis using Spearman Rank Correlation model to evaluate the outcome. Based on this analysis, the following graph shows that all social media signals together are stronger ranking factors than backlinks:
Google+: The social media platform Google+ has the biggest influence in ranking. Google wants to boost up its own social platform Google+. Any content that is posted on Google+, Google crawls it immediately. Therefore, it's really a great idea, especially for a newly published content to post it on Google+ first.

Facebook: Facebook is the second most important social media platform for getting social signals. Facebook likes, comments and shares act together to achieve more traffic and as important as backlinks.

Pinterest: At present, Pinterest pins are also playing a significant role in getting social signals. Recently, Pinterest has earned a great popularity in the social media platform.

Twitter: Sharing URLs in the Twitter are a fast and easy way to achieve more social signals. Tweets on Twitter have a great impact. To provide the latest and reliable news about the celebrities, Google is currently working on integrating tweets into their search results.
Nowadays, people are getting more involved in social media. Therefore, it's not surprising that social media signals have become one of the leading ranking factors.
Backlinks
Backlinks had a huge importance in search engine ranking in the past years. It's still an influential factor, but the new algorithm of Google prefers quality backlinks rather than quantity. As black hat SEO techniques use too many bad backlinks to achieve higher rankings, Google is concentrating on quality backlinks. So, the presence of too many bad backlinks can be harmful to the ranking of a website and there are also chances that Google can remove the site from its list.
Some Important Notes on Backlinks:
Quality backlinks are more important factors than the number of backlinks. Backlinks that can draw more traffic are vital now.
Anchor texts with various keywords work better. For 40% of the links, anchor texts should have keyword variations (like best cars, new cars, top cars etc.)
For the remaining 60% links, anchor text should include URL, brand or stop words like "Click here".
Having a balanced number of no-follow links and anchor texts with diverse keywords and also generic keywords like "click for more info" are really helpful for ranking.
Control your website link profile with tiered link building.
On-Page Factors
To improve Google ranking, a flawless on-page strategy should be followed. Keywords don't have the same importance on rankings anymore. Previously, it was possible to rank a website in higher position just by stuffing keywords. But recently, it's not even needed to put a keyword in the domain. However, it's not that keywords aren't a ranking factor anymore. To get a higher Google ranking partially depends on the choice of keywords, keywords positioning and density.
Another graph from Siteber shows that the role and importance of keywords have changed this year.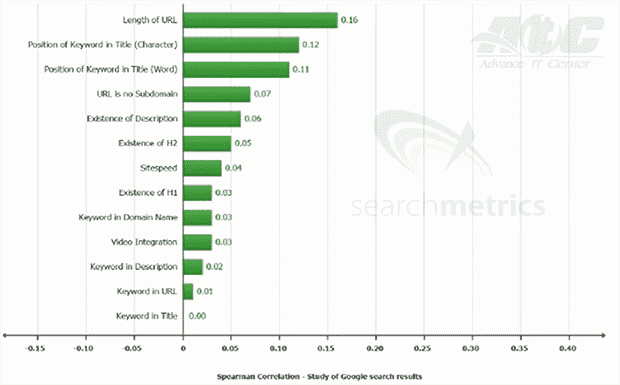 From the above graph, we get the following information about the impact of keywords on ranking:Shorter domains and URL's are better for ranking.
Placing the keywords in the title or in the content is more important than putting them in the domain or URL.
It's important to include meta description, H1, and H2 tags, as they help to rank better.
Keyword density is not a vital factor anymore.
Linking a page to itself with the target keyword is good for ranking.
Creating internal links with keyword focused anchor text is important. Too many or too few internal links can lower the ranking of a site. So, it's always a good choice to create a balanced number of internal links (generally 180 links).
It's necessary to review the internal links regularly. The content should be updated by removing irrelevant and broken links.
The anchor text which will be used for ranking, shouldn't be added to external links.
Please include attribution to ShaneBarker.com with this InfoGraphic.
Average Time On Site and Bounce Rate
When content provides unique, interesting and useful information to the readers, it generates more traffic to the website and helps visitors spend more time on the site. It also builds up the social relationship. The time visitors spend on a site is also a factor and termed as 'Average Time On Site'. As the factor 'Average Time On Site' is a metric for the quality content, it'll be considered for Google ranking 2015 and in the coming years. Another factor 'Bounce Rate' is also taken into account by Google, which means the percentage of visitors come and then leave without continuing on to view pages within the same site. A high bounce rate is often regarded as bad, as it indicates that the quality of the content is not good or not useful and it can be harmful to ranking.
Mobile Friendliness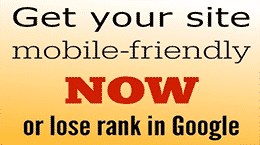 The newest and most important Google ranking factor in 2015 is mobile friendliness. It's the new adjustment in Google 2015 search algorithm. On the Webmaster Central Blog, Google declared that mobile friendliness (that already have started from April 21st) will be a strong ranking signal. As more people are using mobiles to access the internet, users should get the most recent and relevant results. So, Google is changing its algorithms to adapt to mobile usage patterns.
Google has made two important changes to help users find more mobile-friendly content:
1. Mobile-friendliness Ranking
As more users are viewing websites on mobiles, Google wants to make it easier for the users to discover relevant mobile-friendly websites. It's also notable that sites should load fast and easy to navigate.
Google recommends to take the following steps to make a website mobile-friendly:
2. App Indexing
When ranking search results, Google will also factor content from mobile apps. Google is calling this new feature 'App Indexing'. It indexes apps and then it shows those apps more prominently in search results. But this is going to work only when users are signed into Google and have the mobile app installed.
However, Google will not index app content automatically. To see how to implement App Indexing, Google has its step-by-step guide.
For further help and information about either mobile-friendly website ranking or App Indexing, Google welcomes to its Webmaster Help Forum.
Local SEO
Local SEO is the optimization process for the local results in search engines. Google had a great algorithm update, the 'Pigeon', launched on July 24, 2014. Unlike other algorithms, this algorithm focuses on local searches. Google pigeon gives users more accurate local search results on Google Web and Google Maps. This is one of the most important local SEO related updates and going to play a significant role in website ranking in 2015 and after. An article "The 2014 Local Search Ranking Factor" was published by Moz. From the information is provided, the four most critical factors for local SEO are a website, citation, links, and reviews.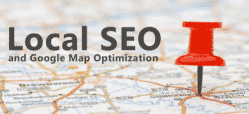 Google also introduced a tool 'Google My Business' in 2014. It's easier to accomplish multiple tasks using this new platform. With the introduction of Google Pigeon, Google Search, Google Maps, and Google+, it's really difficult to keep up with all the updates. Using Google My Business, it's possible to improve website rankings in all other aspects of Google's services (Google Search, Google Maps, Google+). It also helps to improve local SEO. Thus, Google My Business facilitates to create a better relationship with the target group of customers.
Google+ is one of the most important local listings that should be created for local SEO. With the launch of the Google Pigeon and Google My Business, it's vital to complete all the listings correctly in Google+ and get verified.
As local search update is going to have a strong impact on ranking in 2015, it's essential to optimize business information on Google My business, have a mobile-friendly website and get listed on business review sites like White-pages, Trip Advisor, Yelp, Supermedia etc.
The New Google RankBrain Algorithm
Some of you may have heard of RankBrain is a new initiative that Google announced. They actually announced just a few weeks ago now they have an algorithm they call it rank brain bring it is a machine learning algorithm and is the third most important factor in SEO where the first is still the quality and relevance of your content and backlinks, So RankBrain algorithm has helped them understand language a lot better. FAQ: All About The New Google RankBrain Algorithm
Google is changing its search algorithm frequently to provide the best user experience for the searchers. It's also trying to present relevant and consistent search results by evading irrelevant and junk contents. These changes will also stop various types of ranking manipulations caused by black hat SEO techniques. However, Google is also trying to develop itself and enhance its brand name with the time. If it can't provide reliable, useful and relevant information to its users, it won't be able to hold its position in the future. Though Google algorithm will change over time, a quality website with useful and unique content won't face any problem. Rather, they'll get benefited from it. So, in conclusion, it will be wise for the web-owners to start blending Google Effective SEO Ranking Factors 2016 in a balanced proportion of their sites. It will not only help to achieve higher ranking in search results but meet any kind of update in future as well.
Alim Tasnim
SEO Professional
Founder, Advance IT Center
Learn SEO from Experts: https://advanceitcenter.com/seo-training-course-in-bd/