Bangladesh has estimated a population of 15 billion. This gives her 8th position of the most populated country with the share about 2.19% of the total world population. Nearly one-third of the population is youth, aged between 18 to 35 years. An unemployment rate of the country is almost 5%, and the youth unemployment rate is 8%. In other words, around 6.3 million youths are unemployed. Although it is said that Bangladesh has improved and developed her economy, but there is still limited job opportunity. Immense competition prevails in the job market.
The vast population is an untapped resource for Bangladesh. We need to open up new opportunities for them. People of Bangladesh have immense possibilities. They have energy, creativity, motivation, and dreams to prosper. Today on the full citizens are better educated than previous generations. They are much more concern, familiarity, and skill with technology. People have already proved their potentiality in Garments, abroad, employment, self-employment, and ICT sector. They possess promising business ideas. Put their ingenuity to open new income opportunity and business horizon. We can give an example of expanding online social marketing, Freelancing, Business promotion and so on.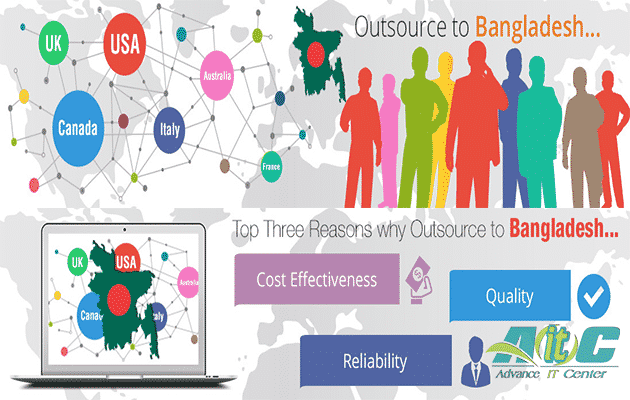 Moreover, ample supply of labor gives local organizations the scope to offer low remuneration. Although people have potentiality, talent, and capacity they are forced to work at a lower price for scarce employment. So, among the employed people, there is a growing demand for part-time income. More and more people are coming forward to do freelancing and part-time jobs. So Bangladesh is becoming with other countries top outsourcing landing place.
Online outsourcing can be defined as a practice of lending a particular kind of task outside the company instead of having it done by in-house departments or employees. The work can be outsourced to individuals or corporations. Outsourcing can be of different types, e.g., IT outsourcing, Marketing outsourcing, services outsourcing, financial outsourcing and much more. Of all those types IT outsourcing industry is expanding each year. The global outsourcing market size has gradually increased from USD 45.6 billion to nearly USD 83 billion. Global outsourcing industry revenue was USD 82.9. This possibly because-
Time and Cost Efficiency – IT outsourcing is cost and time-saving. The company who want to outsource their part of IT task has just published their requirement in online marketplaces like Upwork.com, freelancer.com, in reply joints or individuals who wish to extend their service in that particular advertisement submit their credentials if selected gets the job over the net. This whole process may take one or two days and in some cases a couple of houses.
Delivery of the product ends the contract – When advertising a task, the advertiser also publishes job completion deadline. On the other hand, the interested party who wants to complete the task in that stipulated time submits his credentials. After the selection of supplier, money transfer and successful submission of the assignment at the end of the contract. There is no other sub-clause, rules are involved. There is no obligation for the advertiser to give the new job to the same supplier or the contractor has liberty, whether or not take the primary responsibility from the same advertiser.
Least direct contact – Another essential feature of IT outsourcing, there is minimal direct contact involved in the whole process, beginning with a section of supplier for the supply of the finished product. So there is a higher chance to be selected for the supplier.
Less effort to handle – Most IT outsourcing works are virtual. So there is no need to feel it physically. The task description and finished product are supplied online. Therefore, transportation, shipping or courier is required.
There are many fold outsourcing sectors. Call center outsourcing, Knowledge process outsourcing (KPO), Data entry outsourcing, IT sector outsourcing, Health sector outsourcing, Financial sector outsourcing, Engineering services outsourcing, Marketing sector outsourcing. Both experts in the respective areas or newcomers with moderate knowledge can obtain benefits from these areas. The extent of income may vary from the US $ 500 to the US $ 20,000 or more depending on volume and complexity of the task. This amount may be promising for those who are searching for jobs or part-time.
Next, we can discuss outsourcing marketplaces. The most popular markets are odesk.com and freelancer.com. These two sites are the most reliable mediator for both employer and supplier. Their strict rules and regulations prohibit the employer from not giving service charges after receiving the product or the provider from not supplying the finished product on time. All rights and confidentiality of both parties are maintained with priority. If the employer is not satisfied with the service by the contractor, then he gets compensation from the contractor by submitting specific faults of the product to the mediator (odesk.com or freelancer.com). As well as the contractor enjoys prompt payment policy ensured by the above ombudsman.
While discussing new horizons of IT outsourcing to Bangladesh, some ethical issues should be mentioned so that individuals who want to enter this world can flourish with integrity.
The quality of work: Top most priority given by the employer is the quality of work. Individuals or companies should render the best quality service to satisfy the employer. Best quality product supplied by companies will not only bring goodwill for that company but also uplifts the nations' honor.
Choosing the right work: Work should be selected as per the ability of the individual. Failure in supplying the task as per the requirement of the employer may result in permanent rustication from the market.
Security policy: Security and privacy of employer's data should be maintained. It is the expectation of the employer. Both parties should come to an understanding of what kind of security measures should be taken in handling the data.
Culture: There is a vast difference between western culture and eastern culture. As most outsource providers have based in western countries the basic knowledge of their religion, values, linguistics should be gathered. During the conversation with the employer over email or video chatting, words should be selected carefully.
Identity falsification: This is the most important ethical issue. When receiving a task from the employer, it is imperative that information about the contractor should be presented as accurately as possible. Any false data will result in drastic consequences.
Freelancing is becoming a promising opportunity for both employed and unemployed for entrepreneurs who have little capital. Bangladesh is a likely landing place for companies who want to outsource because of the significant number of educated unemployed labor; People are keen to technology, Government open policy for IT, Low labor cost and Time zone difference. In the end, we can say "Avail the opportunity that Bangladeshi IT market can offer." And Prospects of online outsourcing in Bangladesh mounting massively.