Xoom vs PayPal Controversy in Bangladesh
Since the announcement of PayPal's named "Internet Payment Gateway" Xoom Incorporation which named "cross-border online money transfer company" summit in the last quarter of 2015,  has been introduced PayPal in Bangladesh and 'confusing news' is being done by combining Xoom. But the reality is that the nature of the Internet payment gateway and online money transfer service is completely different, most horrible thing is that, both the system service nature and customer demand are different, that means customers also different.
Let's talk about the features of PayPal versus XOOM incorporation:
Basically, The basic feature of the payment gateway like PayPal is actually give the service through Electronic wallet which is used for cash deposit from bank account, credit card, debit card, peer-to-peer money transfer, online merchant payment and withdrawal of money to bank account, credit, debit, pre-paid card with the permission of payment gateway's licensees location from central bank of a country. Which license can take and distributed by the commercial banks as customer demand?
On the other hand, the fundamental feature of online money transfer like Xoom is only use to transfers Cross-Border electronic funds through swift codes which code is provided by the specific commercial banks to their customer to deposits their money to bank account, credit card, debit card or OTC means over the counter or withdrawal their money from XOOM to bank account or over The Counter-OTC. This type of transaction called "Online Money Transfer License Location System. To easier understanding, this Xoom is like as western union, USA EXPRESS and so on. Bangladeshi people, most of the time habituated to use western union, MoneyGram etc. to transfer their money from foreign country to Bangladesh through their selective bank.
Basically, most of the banks in Bangladesh use BEFTN (Bangladesh Electronic Fund Transfer Network) through the Inter-bank fund transfer facility which exists for a few years. But In this selection of money transfer system does not work real-time money transfer to ACH (Automatic Clearing House) and RTGS (Real-time Gross Settlement) so, Electronic Fund Transfer has not ensured the instant fund deposit. As a result, it takes two or a day to the settlement to depositing the fund as customer demand.
Now a question may be in your mind; what is that issue in technical assessment and reasons behind the confusion?
To give your answer we can say that, an online version of money transfer and offline version of money transfer called brick-mortar model is remaining the same.  Resulting, for the transfer money through online, online money transfer operating license exchange house will be taken separately to the country to country transactions.
How Confusion arises and Why PayPal Buy the Xoom as an associate?
It is mentioned here that perhaps the only Xoom subscriber (sander/payer) can be able to transfer balance by logging with PayPal. Resulting Xoom became PayPal Xoom. Basically, PayPal is just payment gateway and Xoom working on the basis of online money transfer system.  Since PayPal is not a bank, they also need to cash in from bank accounts, credit cards, debit cards, pre-paid, money-packs. At the same time, Xoom doing the same thing but it's just transferring money from bank to bank, not able to hold money and work to take payment from the online business client or make payment to purchase anything from online which is actually doing by western union, MoneyGram and so on. So, there is no fundamental difference to Xoom with other online money transfer services. This is one of the reasons for buying Xooms offline (Brick & Mortar) and online remittance market by PayPal, because of PayPal customers are generally online buyers and sellers. As a result, the Merchant Service Monopoly has made basic service e-wallet.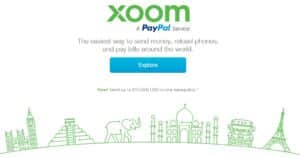 As the P2P or cash-out is expensive and also lower rated ration regarding transactions. Basically, PayPal cash-In Free but in case of Cash-out or peer-to-peer transactions customer have to pay a lot of fees from 2.5 to 4 percent, in that case, customers are avoided cash out or high-value P2P transaction payment gateways to cash-out funds to their banks. In the case of a Xoom, the swift network is used by exchange houses with online money transfer or money operating licenses. In that contest, to transfer money the Xoom charge one dollar to any account for 4-7 dollars.
Inward remittance customers of Bangladesh are mainly of three types:
Online Worker who are mainly Freelancer, or Remote Worker.
Offline Worker class means the people who give labor to foreign country
Merchant Service who are online or offline product merchandiser.
On the other hand in Bangladesh there are four types of Inbound Remittance Channel which used by these 3 types of customers:
Exchange house Like Western Union, MoneyGram, Al-Raji, Lord, Sonali Exchange and so on.
Online Money Transfer like Transfer Voice, Xoom, and UAE Express etc.
Online Payment Gateway PayPal, Payoneer and so on this service is actually used by the freelancer's
Hundi which is popularly known as money laundering.
First of all, the Xoom has been going on in Bangladesh for many years through Rupali Bank, Shahjalal Islami Bank, and Lord Money Exchange. Basically, the confusion arises from a public bank called Sonali Bank, has been saying for years, that PayPal is coming and they are able to give PayPal service. But still they did not clearly explain how to provide PayPal service via Xoom, so confusion is rising day by day. But actually, it's not possible to give PayPal service via Xoom. Because there is so logical and technical difference between Payments gateway systems like PayPal and online money transfer process like Xoom.
Now maybe a question arises in you brilliant mind how we sure about that this is not capable enough to give PayPal service. Keep study to know how we sure about. In general, if we verify the technical and regulatory perspective of internet payment and online money transfer, it can easily understand that it is a different company as well as different services and types. The difference between another online money transfer or the previous Xoom with the current Xoom is that if someone has a PayPal account then he or she is allowed to authentication based login into Xoom and he or she will be able to transfer funds from PayPal balance. Although PayPal itself deposits to a card or in a bank account by cash-in. So, the fundamental difference is not very much as long as PayPal does not give the opportunity to open accounts in Bangladesh. Because the name of Bangladesh still not listed on PayPal's website. That means PayPal still does not index Bangladesh to provide service from Bangladesh to their customer.
On the hand, PayPal has a listing of 203 countries working, but there is actually PayPal phone service functional in 25 or 29 countries. In the 203 countries list the only 107 countries can withdraw their money from the local bank. The remaining 96 countries including Nepal, Bhutan can open accounts, but customers are not getting limited or any vendor accounts. In fact, there is nothing more than the country index in these cases. So, US Accounts like Payoneer and verified the master card is necessary for fund transferring to the local bank. So if you want to withdraw money, follow the same procedure that is now done by our freelancers, with Payoneer or other MasterCard.
As per discussion, we can say that with kidding fell, PayPal with Xoom and running the internet by blogging remain the same until PayPal indexing in Bangladesh. Resulting we cannot get the true service of PayPal as a result freelancers or online merchants are deprived of PayPal services.
Now the Million dollar question like: What is the alternative to PayPal? Almost all IT companies in Bangladesh are doing outsourcing work and withdraw their earnings by using normal banking channels so they can bring millions of dollars every month without any interruption. The freelancers can easily withdraw money from the local bank through the screen, Payoneer, Neteller or many other providers of international companies who are mastering the master card. So, don't worry guys, who are newcomers of freelancing, you have a lot of option to transfer your earned money to our local banks. Yes, it is true that PayPal is a lot more convenient and have huge facilities, but it is also an expensive service to transferring money. Basically, we need our own or local payment gateway, which can be transferred for e-commerce or P-2P, inter-bank fund.
Final verdict:
The true indeed, As the PayPal is not coming to Bangladesh; this is not the failure of the government's ICT Division or policymakers, Bangladesh Bank, BASIS or IT sector and other authority for making a financial decision of our country. Actually, PayPal is a completely independent private company that deals with decision-making by considering its plans, policies, roadmaps, feasibility, and risks.  Now our own preparation is necessary for the run. Banking Technical Infrastructure should be prepared more. Our credit card users are much lower than other countries; online banking has not started well. However, there is no problem with the policy support. In order to work with or such online payment gateway in Bangladesh, its stakeholder will be the first to play a leading role. In order to bring the bill, the 'Bangladesh Bank' is the main stakeholder. So Bangladesh Bank has to take responsibility, the policy has to be fixed.  And truly we can say PayPal is not too far if all the banks, ICT divisions, BASIS and the concerned people work together to take all the technical challenges those are arising regarding this issue.
---
Main Content Source: http://techshohor.com/oped/80176
Translated by:

Raisul Sagor, Broadcast Journalist – ATN NEWS