Outsourcing is one of the most talked about issues of recent times. Simply put, outsourcing is getting the works done by freelancers who are people outside of the company and usually located in a different country. Various companies of western nations are now conducting business Process Outsourcing (BPO).
For BPO, (Business Process Outsourcing) the organizations are heavily relying on numerous freelancers all over the world. Since a high level of education is not mandatory for outsourcing, even moderately educated people become successful freelancers are earning the tremendous amount of money. Those who have completed university level of knowledge and not getting a suitable job, are gradually getting interested in the outsourcing field and earning money online. Thus, outsourcing income has a positive effect on unemployment.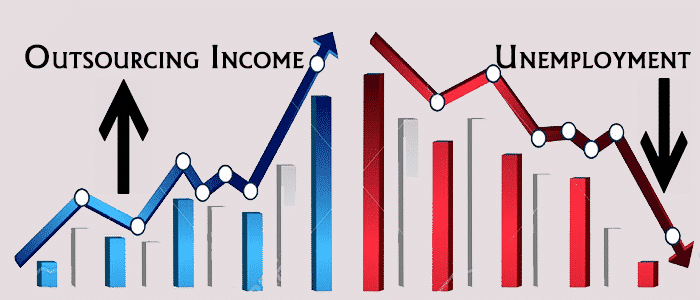 Outsourcing has marked its presence in many fields, namely call center, IT support services, software development company, IT consulting, a software company, etc. Moreover, payroll, HR, legal, accounting, recruitment process, etc. sides of the firm are also getting outsourced by large organizations these days.
There are several benefits of outsourcing, both for the company and the freelancer. A corporate institution has many types of works, including the dull and low skill ones like data entry. If a company wants to get all their jobs made by their employees, then they have to either pay them more or employ more people. These are very costly options. This is when outsourcing comes into the picture.
Companies give works like these to contractual freelancers who do the job. Most of such freelancers are from developing or less developed countries of the world. So the remuneration given in advanced countries' currency seems adequate to them. On the other hand, for the company, it is less expensive.
There are some advantages on the freelancers' part as well. Many students fail to find the right job opportunities after graduation. Besides, many students want to start earning money before their studies are complete. Furthermore, many women want to work from home. Also, there are loads of individuals, who are already doing a job, however, want to increase their income by doing some extra work. People from all these categories are becoming interested in online posts. Through the home based jobs, they can make money online without much qualification because only a moderate level of education is necessary for jobs online. Plus, one can work from the comfort of their home. Freelancers can also set the work schedule according to their convenience.
There are several effects of unemployment that can be observed in society. If unemployment rate gets higher, then it has an overall negative impact on an economy. In today's competitive world, it is becoming tough to get a suitable job according to one's qualifications. Many of the times students don't become able to get the job they desire. Also, a lot of students manage to find a job, but it may not be from their field. All these situations ultimately lead to frustration. For such people, outsourcing can be a way out. They can take the necessary training from a qualified training institute and obtain the proper skills to become a successful freelancer.
On the other hand, many students are not yet done with graduation and have not become qualified to hold a corporate job but want to earn money by working. Freelancing can be a brilliant solution for them. They can get proper schooling from an outsourcing training center. Thus, they can learn the ins and outs of freelancing and thrive in outsourcing field.
Moreover, there are many women, especially homemakers, who want to hold a job but fail to do so because of various family reasons. Freelancing can be a lucrative option for them. After getting adequate training from an outsourcing establishment, they can become flourishing freelancers. Finally, outsourcing can be the answer for those who want to earn some additional money with their regular salary and thus increase the income in general. Of all sorts, if people discussed above, outsourcing can be an outstanding solution.
Many outsourcing institutions have established all over Bangladesh at present. They offer precious training by knowledgeable tutors. In this way, the students, including the newcomers and beginners, can set themselves as a skilled freelancer and sustain in this arena. Therefore, they will be able to earn lots of funds and get benefited financially. Ultimately they can make their financial condition a lot better.
There is a possibility of earning huge money by doing outsourcing work if one can do it correctly. Each year Bangladesh receives a massive amount of remittance because of freelancers' earnings. This helps to augment the country's financial condition. In a nutshell, outsourcing is beneficial for the individual level and a country's economy as a whole. Income from online outsourcing field helps lower the unemployment rate. Consequently, this is beneficial for everyone.