Online outsourcing work in Bangladesh
The growth of Internet
It was in 1998 my brother first brought a BOL card, and we first encountered "The internet" experience in our home PC.15 years later it was me describing over skype to my brother how to earn money online through Upwork. We the siblings have grown with time from middle-school to full-time professionals meanwhile Online Outsourcing work in Bangladesh and the field of Bangladeshi internet users faced much more drastic change. Bangladesh – the country of 'impossible attainments' grew from 186,000 internet users in 2000 to 43 million internet user in 2015. Dhaka is ranked as 3rd IT-enabled online outsourcing services globally. With over 120 million mobile phone users, 48 million Internet subscribers, 8 million Facebook users, there exist not only a big pool of smart Internet users but also an excellent potential for online freelancing work among Bangladesh.
Prospect
In this scenario, it is not surprising that in a case of Online Outsourcing cooperate in Bangladesh, we are ranked 7th among 186 countries where online jobs are outsourced. Recently industry experts revealed their assumption that the pool of Bangladeshi fresh graduates, is expected to earn $100 million a year by 2020 working online from home, which is five times more from what they Earn Money Online in Bangladesh.
Reason behind the rise
There are numerous reasons why a freelancing job is on the rise in Bangladesh. A young and educated population base, a relatively good pay than home currency, current job dissatisfaction, an eagerness to earn money from part-time job besides full-time job/study. Another two reasons that have fueled online freelancing even beyond the boundaries of the major cities are-
Easy accessibility to work online, due to emergence of new devices and apps and
99% geographical coverage in voice and data connectivity.
Platforms to freelance
Open market freelance platform
The platform that matches the need with the suitable talent has geared up the tremendous growth of online outsourcing job throughout the world. A relative overview of some traditional online outsourcing marketplaces is summarized below in an image.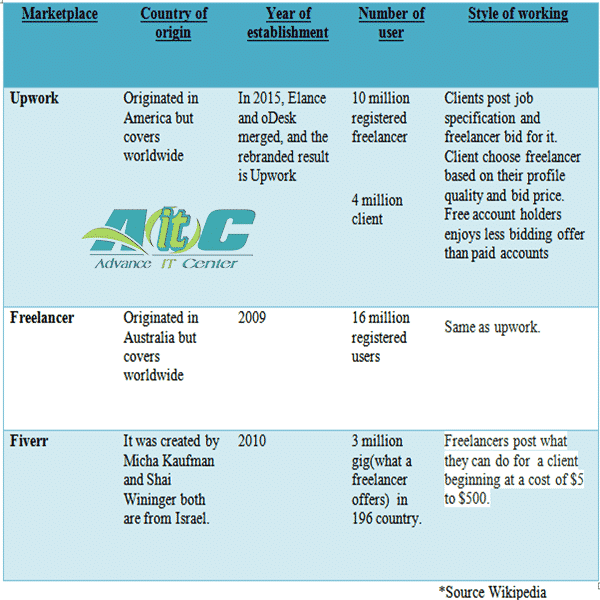 For Online Freelancing work in Bangladesh, every wannabe freelancer start their search for work through these sites. Similarly, every employee who need to get a job done fast through online outsourcing work, also visit these sites in search of talents. Though these websites are often categorized as the source of cheap labor and they are not suitable for all industry. They are often a good place for a starter. With evolving freelancing industry some specialized freelancing sites have also developed, some other popular freelancing sites are-GURU, CroudSource, Aquent, Craigslist, 99Designs.
Business Processing Outsourcing
In a case of freelancing Outsourcing work in Bangladesh Apart from the freelancing outsourcing open market, there exists an equally big market for Business process outsourcing. Where a company outsources, it's a part of a process to a suitable independent contractor or pool of freelancers at a remote place and maintains a country office for managing their freelance workforce.
BPO is a slightly different concept and is not my main topic for today. In the field of online outsourcing jobs in Bangladesh, It exists for a longer time than the online outsourcing open market but currently this market has also been geared up due to the very encouraging participation of Bangladeshis in Online outsourcing market. Recently two international firms have started operation in Bangladesh to (or "intending to") penetrating the untapped talent pool of Bangladesh in the field of – IT and Medicine. One is Singapore-based Sekai Lab(who has 300 software development teams in 15 different countries). Second is Augmedix, a medical startup, that serves doctors in 13 states of USA. Augmentin has an aggressive plan to create a workforce of 7,000 people in Bangladesh in next five years. Both the company has started to hire people who will work from Bangladesh on real time with the USA.
Type of Online Outsourcing job
Some skill that is available in the online outsourcing job market is more than 2700.Below is a broad category wise power demand chart from Upwork for 2015. To excel in online outsourcing jobs at home, Bangladeshi freelancer can focus on this need base.

What does it take to succeed?
In a field of online jobs work from home to be a successful one has to have some core and some augmented skills.
English proficiency,
support of hardware software,
Knowledge and training on specific skill that a freelancer wants to focus on,
necessary knowledge and faith on the online payment system are some basic need.
A good communication skill,
integrity to finish a job ethically,
effort and attitude to retain a client for future,
a continuous effort to improve in own field of talent are the traits that will make earning money from home self-sustainable.
Concluding remarks
For supporting online outsourcing jobs in Bangladesh today, many training centers exist in the Country. Especially in Dhaka number outsourcing training centers is adequate. Advance IT Center is one of best outsourcing training centers in Dhaka. A glowing reputation of the talent of Bangladeshi online freelancer has been established in the world. The In the field of online outsourcing work in Bangladesh the country has around 5.5 lakh freelancers subscribed with different outsourcing marketplaces. Upwork alone has 4.5 lakh subscribed users in Bangladesh. All this statistics are bold enough to show our future prospect in this field.
Content Credit: Rushmila Andalib