What is SEO content?
To understand what marketers mean by SEO content, let's divide up the phrase into its parts:
SEO refers to search engine optimization or improving a website so people can effortlessly find it via search engines like Google, Bing, or Yahoo.
By "Content," we mean any information that exists on the web and can be consumed online.
SEO content is any content produced to attract search engine traffic.
What is an SEO content writer, and how much do they cost? You can read more about this in this detailed article about SEO content writers by Freelance Writing Jobs.
Related: How to Rank Without Backlinks 
Why focus on significant and unique content has increased?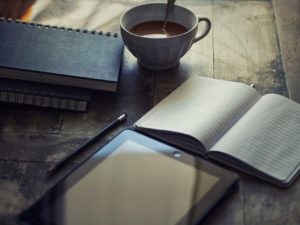 In the last nine years, the entire landscape of search and digital marketing has transformed. As a result, we have to change and adapt to it. In the beginning, SEO was as easy as 123; you create a primary website, stuff a bunch of keywords, and start backlink farming. Quality content was given little property. Instead, it was somewhat neglected. So Google changed the way it worked and took many significant steps to change the Google ranking. One such update was the introduction of "Panda update," which penalized websites that publish low quality or duplicate content. Later in 2012, "Penguin," another Google update, worked to reduce the number of link spam, which allowed websites that were genuinely trying to provide good quality content to their users to be on the top of Google rank. Now with the update like "Hummingbird," Google is seeking to become more sophisticated. It wants to go beyond just the words and phrases people use; instead, it desires to figure out what they mean. So, now the content writers have to work with more diligence giving utmost emphasis on the content's quality.
Read details about "Google algorithm cheat sheet Panda, Penguin and Hummingbird".

Learn SEO: http://advanceitcenter.com/seo-training-course-in-bd/
What does Google consider duplicate content?
What is great content?
The following keywords define great content:
Unique
Useful
Generous
Helpful
Newsworthy
Shareworthy
Entertaining
Complete
What kind of content does Google want?
Google wants excellent long articles that solve people's problems. Longer content is more likely to provide detailed and helpful information, and therefore, the length of the article is a factor.
For example, a travel agency that publishes regular short blogs on travel tips is not preferred by Google. On the other hand, if the same travel agency starts to post good 600 to 1000 words travel guides with lots of information about things to see and do, tips and practicalities of going in the regions in which their holidays occur, then Google may consider ranking that content.
Why length matters
Content with more than 1800 words receives the most links from other websites. (MOZ)
It takes 7 minutes to read the ideal piece of content between 1000 and 1600 words long, depending on the use of the image. For example, Moz found that longer posts on their blog get linked to more often, and Upworthy found little correlation between length and attention when they tested Medium's hypothesis for themselves.
If a piece is more significant than 1500 words, on average, it receives 6831 % more tweets and 22.6% more Facebook likes (Quick Sprout)
SerpIQ observed the question of idyllic post length from an SEO perception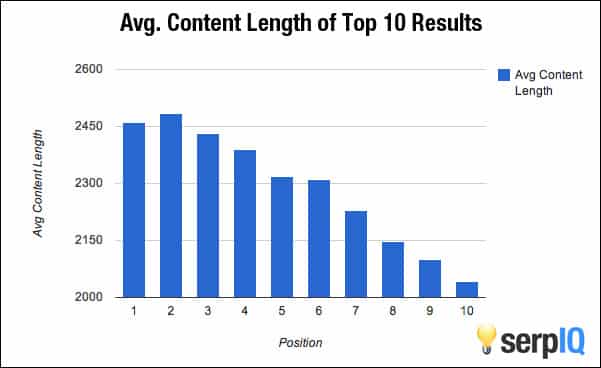 They considered the top 10 results on search results pages and counted the words in each article. Their data comprised text in the sidebars of posts so that you can knock a few words off of the totals below.
Always remember
Avoid generic content: do not rephrase content that already exists
Keywords still matter: choose keywords that accurately express what users want to know and then build your materials around those
Write for the reader first, then organize it for SEO
Types of current content
Long-form articles and guides
Short-form web copy
Interviews
Checklists
News and opinion
Multi-media content (videos, infographics. Etc.)
Steps to follow to write a killer SEO content
The 3 R's -Reading, Researching, and Rephrasing
It is a well-known fact that without input, there is no possible output. Before writing an article at first always practice this 3 R:
Reading
Read a variety of texts on whatever topic you intend to write. These documents can include blogs, web posts, articles, magazine articles, or even good books.
Research
Research extensively on the topic. Evaluate the authenticity and reliability of the source of any information you want to include in your writing.
Rephrasing
As Google vehemently opposes duplicate content, always rephrase or translate any content into your unique words before using it in your writing.
Be open-minded
Accept any idea that comes to your mind. Any statement can be flourished to mind-blowing and excellent content. Follow these steps to practice open-mindedness:
Be generating ideas all the time, keep your mind open
Start with an idea and see what is already out there
Figure out how to improve upon what is already written
Don't rush. Let creativity come to you naturally.
Writing cannot be done using physical force or power. You can move a mountain using energy, but it will not work in the case of paper! So after you are finished reading, let your brain absorb all the information and start planning out the way you want to write. At the beginning-
First, write down the main points you want to focus on
Second, besides every main fact write down whatever details come to your mind. Write everything, do not think any idea is stupid. Just pour yourself down on the paper.
Write for the web
Now start reading your piece from the starting. Erase flowery, obscure, and pompous language. Readers on the web are not interested in reading lengthy texts. They want fast, short, and valuable facts in a shorter time. Sometimes they might not read the whole article; instead, they will probably skim through the entire piece or even just read the headings. So rewrite and resize your sentences and words to attract the readers on the web. These few tips will come in handy when writing for the internet:
Use simple, everyday vocabulary.
Avoid passive voice
Avoid using complex and run-on sentences
Write to the point, neat and precise sentences
Avoid using jargons
Write as if you are writing for a 5th grader so that any level of readers can read it.
Show enthusiasm
According to Wiki how.com, "passion attracts more readers than some old-style bookish speech," so be energetic in tone and show you are interested in the topic you are writing about.
Make the article visually compelling.
The unorganized and messy article will not attract any readers. A composition containing infographics, videos, and images will be ten times more accepted and read than a definite article that only relies on words and sentences. The study showed that people tend to remember 80% of the information if they see something. So the combination of unique writing, videos, infographics, and images will win unprecedented attention from the readers.
Be a GRAMMAR NAZI
After you are done with all the steps mentioned above, be the strict English teacher you once feared in your school, who had corrected every single slip of grammar in your essay. It is vital to check the grammar before publishing your article in front of a pool of readers capable of noticing the slightest slip of grammar or spelling in your writing.
Editing
In this step, you can do all sorts of improvisations. Be it
Adding a point or removing a point,
Enlarging or shortening some point,
Changing the title,
Paragraphing correctly,
Polishing the topic sentences and thesis sentence, sentence structure, word choice
Change of the picture or videos
Do not write and edit simultaneously and remember – keep editing unless and until you are convinced that this is the best piece of your writing!
Publish
Post your content to a place on your website where it is easily found and read. 
Share content among popular social networks:
Do not expect that just by publishing the article, you are done! Keep on sharing the content you have written after putting in so much effort. Please share it on social platforms like Facebook, cleverly link it to another of your traditional article, and thus create hype about it by sharing extensively. 
100 years old proven formula for writing helpful Blog posts and Article -AIDA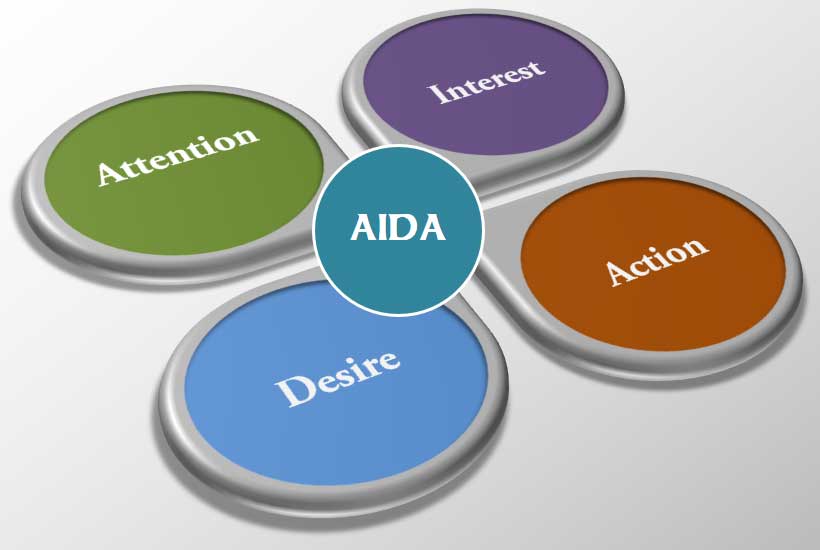 AIDA is an acronym for:
A = Attention
Your headline must grab readers' attention and make them feel like reading this article is the best use of their time at that moment. The best way to do this is to enter the conversation that is already going on in their minds.
I = Interest
One of the best ways to capture and hold someone's interest is to tell stories to relate to. Your reader is in pain. Feel their pain. Articulate it to them. You need to agitate their area of discomfort…just a little. Then proceed to tell them a story that appeals to their emotions.
D = Desire
You are still telling a story, but now…you want to start painting a pleasing picture in the reader's mind.
A = Action
Go straight to your story, what you want to tell the readers.
Use The AIDA Formula To Boost Your Content Marketing Strategy.
Secrets for how to learn to write faster and still create high-quality content
Take a look at your internal dialog before you do anything and watch the story you tell yourself about the things you want to change.
Decide the final goal before writing to reverse engineer your content and get your readers the results they are looking for.
Organize all of your ideas in one place so you can write faster.
Realize the importance of keeping things short and sweet.
You need to stop everything and create an editorial calendar before writing another word.
Trying to complete the entire writing process at one time will not help you write faster.
Work expands to the time allotted….if you want to write faster, you need to set a time limit.
Be the vessel, not the source. Allow quality content to come through you and take the pressure off yourself by realizing you are not doing this alone.
Follow the top 21 tips to write the best content.
Finally, start working. Just sit on your chair with a pen or paper or sit in front of your computer and let your researched brain do the magic. Do not let that blinking cursor on your PC screen scare you, and instead, you take the challenge it is posting to you and use your mighty brain and creativity like a sharp sword to slice off the throat of the fear! Best of luck! Keep writing!